Lodge Communications
COMMUNICATIONS
03/29/17
Masters and Wardens April 2017
02/09/17
Message from W:. Bill Simone:
For those who have volunteered, Allianz show times are:
Friday and Saturday 9am
Sunday 915am
both at the volunteer tent.
Address:
The Old Course at Broken Sound Club
1401 NW 51st Street
Boca Raton, FL 33431
Look for the signs that will show you where the Volunteer Staff Parking is.
Directions Link
01/26/17
Masters & Wardens Bulletin Board for FEB
01/08/17
The Worshipful Master and Brethren
of West Broward Lodge No. 253
Request your presence at the
Installation
of
W:. Brian Chartrand
as Worshipful Master
and the Elected & Appointed Lodge Officers of 2017
Saturday, January 21st
Dinner starts at 5:30pm
Installation at 7:30pm
This is an open dinner/installation.
Family and guests are welcome to attend.

12/12/16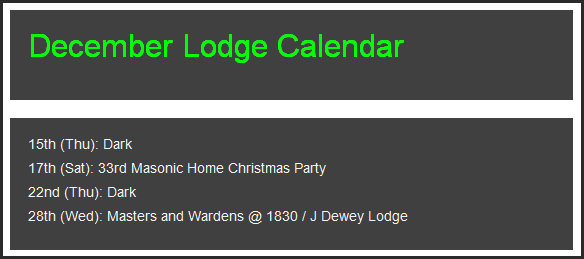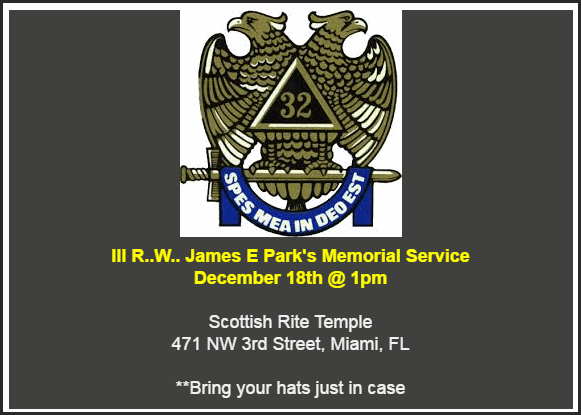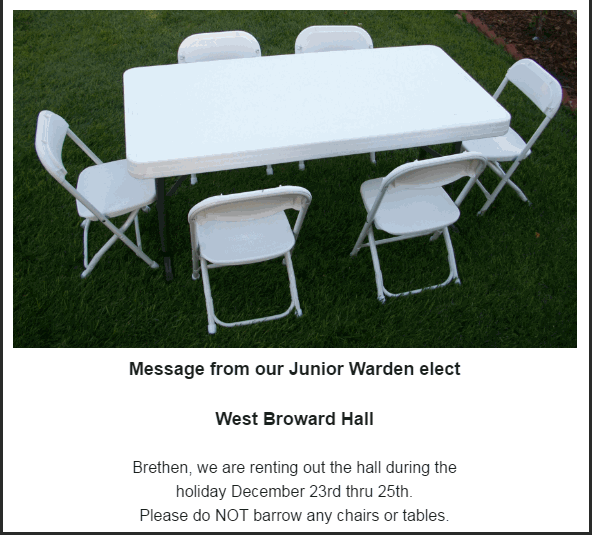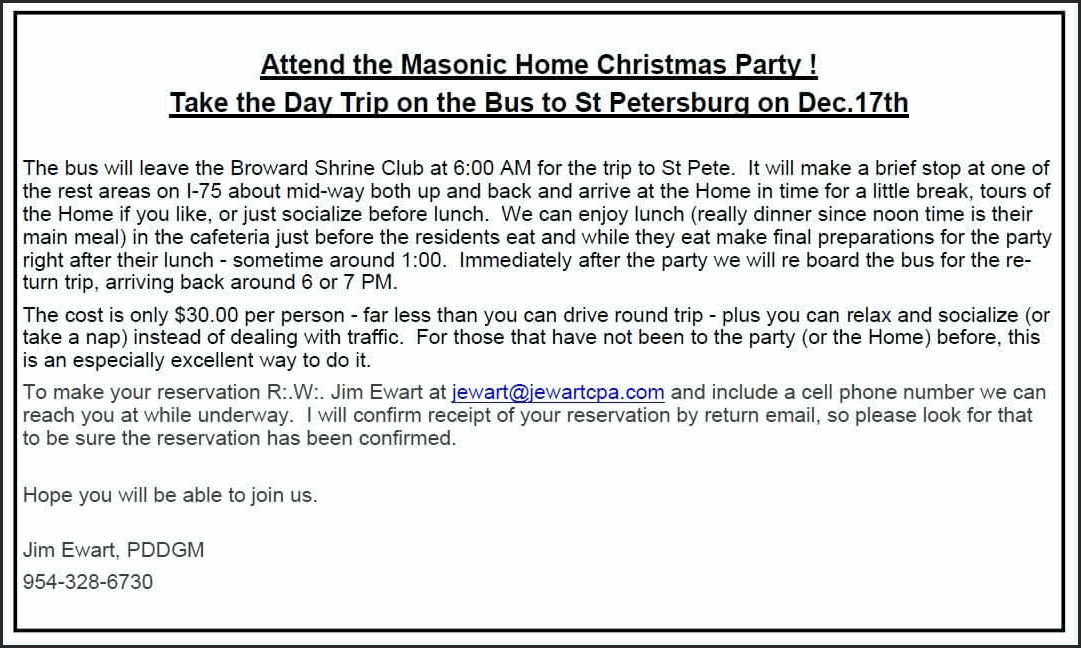 11/17/16
Fellowcraft Degree team
WM Bill Simone
SW Marc Zamor
JW Hector Mirabile
SD Jason Green
JD Roman Maciag
SS Justin Sireci
JS Tom Fabricio
Marshal George Mercado
West Broward Lodge No. 253
Christmas Party
Dec 11th, 2016
5:30pm Mixture
6:30pm-9pm Dinner
$25 per Adult for dinner
$15 per child (12 & under) for dinner
Please notify Br. Treasurer RW Glenn Gomez if you are attending and the number in your party by December Stated Meeting.

10/18/16
Masters & Wardens Bulletin OCT 2016
10/15/16
5K Run/Walk Benefit
Location: Charnow Park on Hollywood Bch • 300 Connecticut St
SIGN UP LINK
10/6/16
MESSAGE FROM OUR WORSHIPFUL MASTER
My Brothers,

Good day to all! We are about to enter upon an event that will impact not just one but all of us.

Attached you will find the US Navy Norfolk forecast for Hurricane Matthew and the Spaghetti's of all the Global Models. The US Navy forecast has been the most accurate of all the models to date. The probability is fairly high that once the system passes; most individuals will fall into the trap of complacency and forget that a majority of the models show Matthew coming back for a return engagement as a tropical depression.

Many of us have been through this before and either bit the bullet or dodged it. I ask that we all take a moment and reflect upon our situations and remember we are a family and here to assist and help all through this time.

Please keep all our Brothers, their families, first responders and their families, and those who may have lost everything or paid the ultimate price in your prayers.

Fraternally,

Bill Simone, WM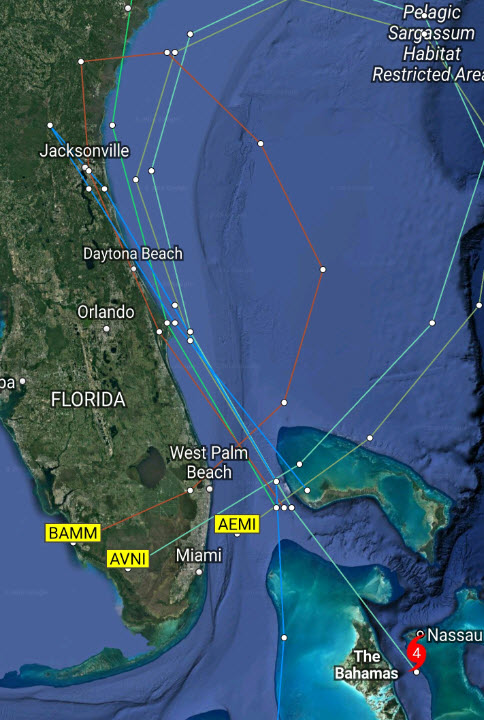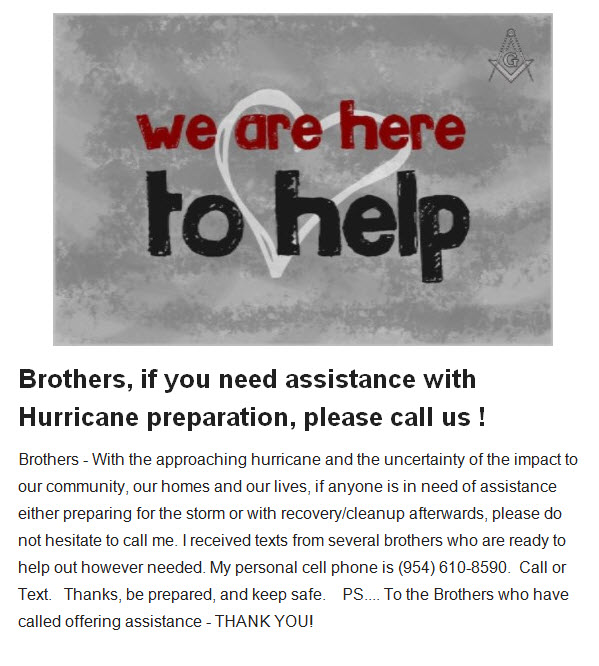 9/6/16
Masters & Wardens Bulletin Sept 2016
8/25/16
Brethren,
The Grand Master Visit (M∴W∴ Stanley L. Hudson) is just around the corner !!!
Please contact me (Br Phil Slack 954-699-7086) if you wish to make a commitment in attending the dinner. Also, West Broward Lodge is assigned to pass out the dinner plates to all. That's it !
It's a great evening in meeting the Grand Master and all other Brothers' of the Mighty 33rd District (Broward Region).
EVENT: Grand Master Visit
DATE: Sept 23
TIME:
About 5 to help prepare
LOCATION:
Next to J. Dewey Lodge No. 331 @ American Region Post 222
ADDRESS:
4250 NE 5th Ave, Oakland Park, FL
8/25/16
Brethren
Mentoring this evening(Aug 25th) is cancelled.
The original intention of having mentoring as a regular event was to provide new initiates with masonic education and summary of the degree they just went through..it was also on the schedule to provide some additional learning for any brothers who wanted to attend… Attendance this summer has been extremely light and we don't have any recently initiated passed or raised brothers… With that said we will try the mentoring night again within a week of the next degree to capitalize on the material being fresh in the initiates mind…
The next few months is a good time to tinker with the schedule and see want interests the brethren most.. We all know every element of the masonic journey for all of us is different and lodge leadership will try and find the best balance for the craft..
Thank you have a great weekend
Fraternally,

Jeffrey Gamm SW
7/28/16
6/29/16
5/9/16
LINCOLN MEMORIAL PARK CLEANUP
May 21st, 2016 8am – 2pm
3001 NW 46th Street, Miami, FL 33142
Lincoln Memorial Cemetery presents us the opportunity to exercise the grand Masonic lesson of Charity, a principal tenet of our fraternity.
The cemetery is a historical location that was established in 1924. It was the only location from the Palm Beaches to Key West, where African Americans were allowed to be buried during that era. It is considered the resting place of an estimated 1 million individuals, many of which, were influential to the community. It is certainly a great possibility that many resting there are connected to us through our unbreakable chain of unity. The now 92 years old cemetery is in need of a considerable amount of repair, from weed pulling and painting, to replacement of name plates. The office building itself needs ceiling tiles, new toilets, and doors. However, we can only attack one thing at a time.
Masonry is truly for the community and not just for its members alone. I am humbly calling for your assistance to roll up our sleeves and show our dedication to the community.
With the event fast approaching on May 21st at 8am,
a need for commitments is needed.
I have elected to adjust the scope of the project to something a little more plausible. For the project I would like to have a total of 25 volunteers. We are currently at 5 officially confirmed.
25 actual attendees – Probably need about 35 RSVP
Equipment needed:

(3) 5 gallon drums of exterior white paint
10 brushes
10 rollers
Weed Whacker (3) gas or electric
Gloves – BYOB
1 box of 100 big garbage bags
5 Shovels
5 weed killer sprays
2 Chainsaws
10 gallon water cooler
100 plastic cups
5 machetes
For those that RSVP, please indicate what you will be able to bring to reduce the items that would need to be purchase by myself.
If you are unable to attend please consider a monetary donation.
Funds donated will go towards supplies and fund for the cemetery.

A coffee & dough nut breakfast will be provided.
PLEASE RSVP to JW Marc Zamor at zamor1492@gmail.com
or call (954) 295-2252
3/31/16
2/29/16
12/27/15
Brethen,
I would like to announce and congratulate the 2016 West Broward Lodge Line of Elected and Appointed Officers.
SW – Jeffrey Gamm
JW – Marc Zamor II
Sec – W:. Carlos "Chuck" Hernandez
Treasury – RW:. Glenn Gomez PDDGM
Chaplain – W:. Phil Slack PM
SD – W:. Nelson Flores-Gomez PM
JD – Hector Mirabile
SS – Aldo Venturacci de Mattos
JS – Jason Green
Marshal – Roman Maciag, Jr
Tyler – Robert Scheinwald
I look forward to working with this years line and having a great year in the East.
Fraternally,
William "Bill" Simone
WM-Elect 2016
12/5/15
Lodge Holiday Party @ 6:30pm Drinks 7:30pm Dinner
The Lodge will hold its annual Holiday Party at Sergio's Restaurant on December 12th (Saturday). Cocktail and social hour will begin at 6:30pm and dinner will begin at 7:30pm. Cost will be $25 per Adult and $14 per Child. Please plan on attending as this will be our last Lodge event for the year before our Pilgrimage to the Masonic Home on the 19th.
Contact Brother Phil Slack 954-699-7086 to RSVP
11/23/15
Masters & Wardens Meeting @ 7:30 PM, 6:30 PM dinner.
Meeting is hosted by West Broward Lodge # 253. Come and help support event. Come a little early to help set up.
10/23/15
EA practice Oct 27th @ 7:00 PM
EA degree Oct 29th @ 6:30 PM
Degree Team
WM – Jeffrey Gamm
SW – Richard Reboredo
JW – Marc Zamor III
SD – 1st section Aldo Venturacci, 2nd section Matt Griffith
JD – Jason Green
SS – Roman Maciag
Conductor 1 – Mark Griffith
Conductor 2 – Rey Rey Rodriguez
Allianz Golf application due Oct 27th
If you wish to volunteer the Allianz Golf Championship, please print the volunteer form, fill it out, and email the completed application to SW Bill Simone @ wjsim1@gmail.com OR bring to EA practice Oct 27th.
LINK FOR 2016 APPLICATION TO ALLIANZ CHAMPIONSHIP
10/12/15
MESSAGE FROM OUR WORSHIPFUL MASTER:
We will be having a minor lodge clean-up on Thursday and that Richard will be there with shirts for the 5K Run. Even if a Brother is not running in the race they should still try to purchase a shirt to help support the lodge ($15).
MESSAGE FROM OUR CHAPLAIN:
Brothers', if you had committed in assisting with the Grand Master Invitation, please contact me at 954-699-7086 for future status.
10/7/15
If you wish to volunteer the Allianz Golf Championship, please print the volunteer form, fill it out, and email the completed application to SW Bill Simone @ wjsim1@gmail.com OR bring to eBoard meeting on 10/22/15.
LINK FOR 2016 APPLICATION TO ALLIANZ CHAMPIONSHIP